Frostbite: Richelle Mead





Rose Hathaway's got serious guy trouble. Her gorgeous tutor Dimitri has his eye on someone else, her friend Mason has a huge crush on her, and she keeps getting stuck in her best friend Lissa's head while she's making out with her boyfriend, Christian. (So not cool).
Then a massive Strigoi attack puts St. Vladimir's on high alert, and the Academy crawls with Guardians--including the legendary Janine Hathaway...Rose's formidable, long-absent mother. The Strigoi are closing in, and the Academy's not taking any risks. This year, St. Vlad's annual holiday ski trip is mandatory.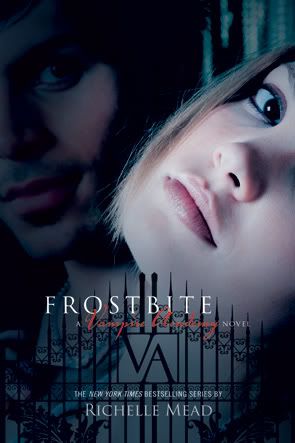 But the glittering winter landscape and the posh Idaho resort only provide the illusion of safety. When three students run away to strike back against the deadly Strigoi, Rose must join forces with Christian to rescue them. Only this time, Rose--and her heart--are in more danger than she ever could have imagined...
Okay, so this book was like night and dark when compared to the first one. I liked the first one and all (and by the first one I am of course referring to The Vampire Academy) but this book upstaged it in so many ways, and made me understand the first one better. There was finally some unique plot, character build up, excitement, and a little more romance. Phew! Although, there were points where I found myself a little bored, and that is why it didn't receive a 5/5. It ended perfectly, and it complimented the first story very well. Definitely pick this series up.
You may be thinking, ughhhhh not another vampire novel. But trust me, these vampires are like no other vampires I've ever read about.
Happy Reading, ♥ Jessica