About us: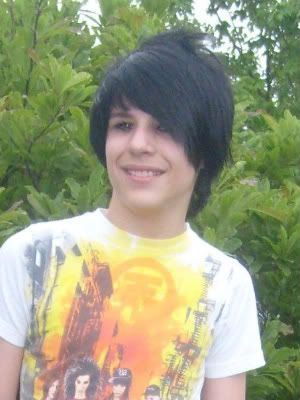 Spencer (the coolest Freak!)
Age
: 14
Favorite Food:
Skyline 3-ways
Favorite Movies
: Harry Potter Films, The Dark Knight, Twilight Saga
Favorite TV shows
: Glee, Dragon Ball Z
Favorite Books
: The Mortal Instruments Series, White Cat, Twilight Saga, Hunger Games Trilogy
Favorite Store
: Hot Topic and Borders
About Me:
I play Soccer, XBOX live, goofing off with my friends and of course, reading.
Angie
Gina:
Age:
Unsure. Physically? 41, Mentally? 21.
Favorite Food:
Italian, double cheeseburger from Mickey Dees.
Favorite Movies:
LOtR, Twilight Saga, Harry Potter series, Avatar, Julie & Julia, Confessions of a Shopaholic, Atonement, Pride & Prejudice.
Favorite T.V.:
Vampire Diaries, Smallville, Glee.
Favorite Books:
Twilight Saga, Mortal Instruments, Forest of Hands and Teeth, HP series, Fallen Hunger Games trilogy, Wicked Lovely series (OKAY. I will stop now!)
Favorite Store:
Borders, Sephora, Hot Topic
About me:
I absolutely ♥ YA Fiction. I really enjoy these worlds that the genre creates. My favorite thing to do is discussing and analyzing books. Also, a favorite is purchasing and smelling, and reading them too! Lol! I love to use my imagination, I am very young at heart and hope to write a YA book some day with Spencer.