Deadly Little Secret: Laurie Stolarz




"Until three months ago, everything about sixteen-year-old Camelia's life had been fairly ordinary: decent grades; an okay relationship with her parents; and a pretty cool part-time job at an art studio downtown. But when Ben, the mysterious new guy, starts junior year at her high school, Camelia's life becomes far from ordinary.
Rumored to be somehow responsible for his ex-girlfriend's accidental death, Ben is immediately ostracized by everyone on campus. Except for Camelia. She's reluctant to believe he's trouble, even when her friends try to convince her otherwise. Instead she's inexplicably drawn to Ben...and to his touch. But soon, Camelia is receiving eerie phone calls and strange packages with threatening notes. Ben insists she is in danger, and that he can help – but can he be trusted? She knows he's hiding something...but he's not the only one with a secret."
Information from: LaurieStolarz.com
So, I really really enjoyed this book! The way the book is made is wonderful, and I wish all books were bound with the same paper and size. I felt so cool running around and reading it, in my STAT class I pulled an old time trick and shoved it inside my math book to make it look like that is what I was reading.
The plot begins very similarly to Twilight. She is rescued by a mysterious boy from a car out of control. Then the boy comes into her life and is confusing the heck out of her. THEN it gets really good as it takes such a unique turn. If you believe that the mind is capable of more than just thinking, than this book has no fantasy in it, and it was kind of refreshing. Werewolves and vampires are getting out of hand. Obviously this book has romance, or it wouldn't be a true young adult book.
Basically, this book is worth the read. Although, I can't imagine where they're going with the sequel. Happy Reading!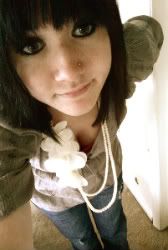 Review by:
Jessica :)
Watch the full review on youtube by clicking
here!